Hi everyone.
This is my very first blog post, so please bear with me while I figure this out.
***I'm not sure why I am talking to people...I'm pretty sure no one is actually reading this post***
My first post is about nail polish...something I have become obsessed with lately.
It has seriously started to become a problem. I have been reading millions (not literally) of nail blogs and buying obscene amounts of nail polish.
I recently made my first indie nail polish purchase...Yay!
I am still waiting for that order to be delivered. It was from the awesome Dollish Polish, which unfortunately is from the USA, so shipping to Australia could take awhile.
So, this post is about my second indie nail polish purchase. It is from a fantastic Australian seller Gloss n' Sparkle. You can buys these from her Etsy store
here
.
The First polish is called Rockabilly Rage. It is a red and black glitter polish in a pink cream base. There are red and black hex glitters and black bar glitters.
It is such a cute polish and can be worn layered over another polish (as seen below) or by itself.
If wearing by itself, it takes about 3 or 4 coats for opacity but it does look exceptionally cute. Unfortunately I don't have any pics of it by itself...but I'm sure I will get some in the future and will put them up.
This is 1 coat of Rockabilly Rage over OPI If You Moust You Moust (from the Vintage Minnie Collection).
Big apologies for the cleanup job...I was in a bit of a hurry.
If You Moust You Moust by itself.
This next polish by Gloss 'n Sparkle is also great!
It is a Spectraflair top coat. If you don't know what spectraflair is, it is a holographic pigment.
If you layer this over a normal nail polish suddenly you have a holo polish.
This is 1 coat of the Spractraflair Top Coat over OPI Love is a Racket.
This is in natural indoor light.
Again...apologies for clean up.
With flash.
Look at the blue pen on my hand...why didn't I bother cleaning that off first??
I also bought the below polish, Unicorn Droppings but I haven't had a chance to swatch it yet.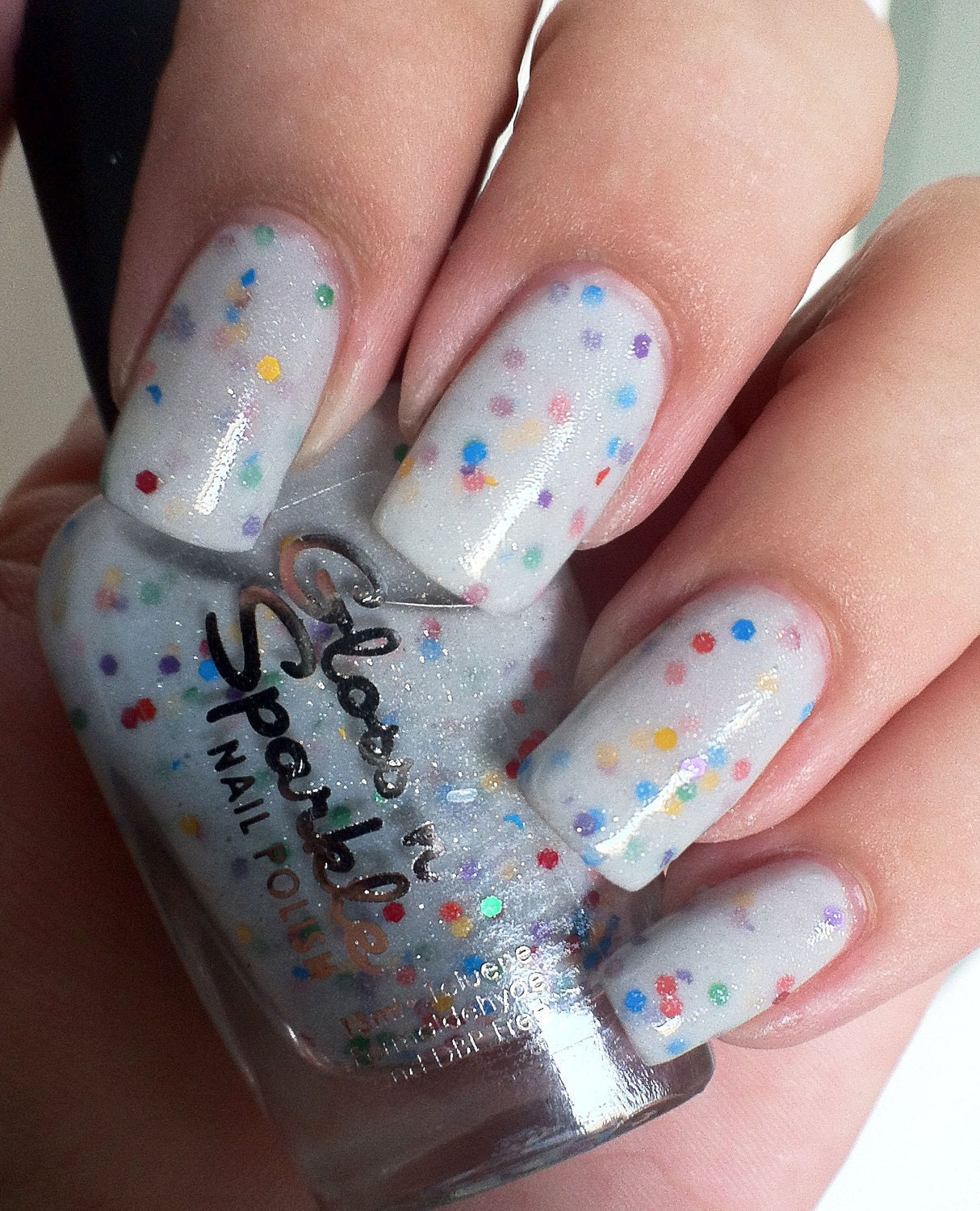 See, this is how my pictures could look if I cleaned up properly...and if I hadn't just broken 3 of my nails...oops!
Their application is sooo easy and they look absolutely beautiful. Plus it is an Aussie seller, so postage is quick and cheap.

She also sent me a bonus clear top coat to try. I haven't tried it out yet but I will definitely try it soon and let you know how it goes. If its anything like these other polishes, it will be great.